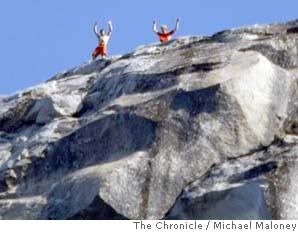 from http://www.sfgate.com/cgi-bin/article.cgi?f=/c/a/2008/07/02/BAQ111IP82.DTL
The Speed record for the Nose on El Cap goes back to Hans Florine and Yuji Hirayama.

The Huber brothers took it last year with 2:45:45 push up the Nose. Hans and Yuji attempted Sunday but missed the mark by 3 min.
Today they reclaimed it with a 2:43:33. Great job guys. Yep, they are pretty bad ass!!!

Sunrise from Mission peak looking towards Sunol.
I'm sure you have heard the expression, 'Don't judge a book by its cover'. How true that is right now so do not judge conditions by their appearance. New opportunities, new possibilities, or possibly a second chance, are just around the corner. All things are cyclical and evolutionary, just like the caterpillar turns to a chrysalis, so the chrysalis becomes the butterfly - each serving its purpose, each part of the other, so understand our own lives also operate in this evolutionary or metamorphic way. Keep an open mind and the truth will be clear, you will be shown the way.

© Stephen Haynes